Durable Medical Equipment (DME)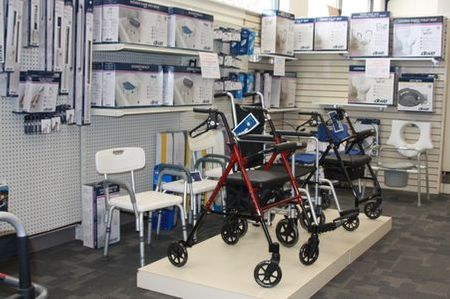 Our Mission:
Medical Pharmacy provides superior respiratory equipment, services, supplies and other related durable medical products to clients in the home, nursing homes, hospitals and facilities.
Our goal is to ensure a fast and effective recovery for our patients from surgery, injuries, and increase in quality of life if dealing with long-term illnesses. We are committed to providing the highest quality care through our caring and knowledgeable staff. We have compassion for our patients and their medical conditions, respect our employees and are committed to our customers.
Covid-19/PPE
We are fully committed to ensuring our patients continue to receive their medical equipment and supplies in a safe and timely manner during these everchanging times. Our staff continues to use PPE and take all safety measures to ensure we are all protected.
Our Services:
We provide durable medical and respiratory equipment and supplies as well as consultation services. We have licensed respiratory therapists for oxygen, and CPAP/BIPAP therapy. Our medical fitters are certified for mastectomy, diabetic shoes, bracing, and compression stockings.
Our staff works with healthcare providers to help patients get the equipment and supplies they need to help them reach their full wellness potential. We provide our customers with the highest quality products and instruct them on proper use/installation and care.
We offer 24/7 emergency equipment repairs to all of our oxygen patients to ensure that there is never a disruption in care.
Insurance/Billing
We accept most major medical insurance plans and process all the paperwork for you.
We understand the need to identify which medical equipment is most likely to be covered by your insurance policy. We can contact your insurance company to verify coverage and benefits, and help you explore those options before recommending any equipment that would require private payment outside of your insurance coverage.
Participating Insurers
Medicare
Medicaid
Blue Cross Blue Shield
Care Partners of CT
Harvard Pilgrim
Healthy CT
Multiplan/PCHS
Union Locals
United Healthcare PPO Plans
Tricare for Life
Whether you are looking to purchase your home medical equipment or prefer to rent it, we can help. We offer competitive pricing on both sales and rentals. Our staff is here help you make the right decision on whether to buy or rent your medical equipment, depending on your individual medical needs.
Equipment/Supplies
Hospital Bed and accessories
Wheelchairs/Transport Wheelchairs and accessories
Ambulatory aids including
canes, crutches, knee walkers, standard walkers/rollator walkers
Seat Lift/Recliner chairs
Mastectomy
Ostomy
Diabetic shoes
Compression garments
Glucose supplies
Bracing/Soft goods
Incontinence and Urological supplies
Wound Care/Surgical dressings
Respiratory Equipment/Supplies
We offer 24/7 emergency equipment repairs to all of our oxygen patients to ensure that there is never a disruption in care.
Oxygen
CPAP/BIPAP Machines and accessories
Nebulizers
Suction Machines
Rental Equipment
Standard walkers
Knee walkers
Crutches
Wheelchairs/Transport Wheelchairs
Hospital Beds
Patient Lifts
Nebulizers
Suction Machines
Industry Trusted & Committed to Serving You
We are accredited and recognized as a Medicare provider and meets all home medical equipment supplier standards.
The Joint Commission is an independent, not-for-profit group in the United States that administers voluntary accreditation programs for hospitals and other healthcare organizations. The commission develops performance standards that address crucial elements of operation, such as patient care, medication safety, infection control and consumer rights.